This album layout was a collaboration between David Barnes and I. David spent most of his nights of the late 2014 tour on the bus illustrating all this art and his days after hunting down copy shops that could scan the massive art boards.
White waiting on David's jacket art I worked a few days coordinating the logo with Kevin via email. It really wasn't until I saw the first draft of the cover that we nailed the logo down. I already knew I wanted the lettering to string together, but later I really wanted to capture David's organic landscape and match it in the lettering.
The physical copies were available in the formats of CD/LP/Cassette Tape.
The Pre-Order copies of the vinyl were on colored transparent Gold in a gatefold jacket. The flowery center label art was for the disc was taken from the live show projections that I re-colored to match the layout.
Most of the art coloring was was mismatched and I shifted the colors as much as possible to flow together. To give this layout my own touch, like on my own personal work, I add a lot of paper and digital color textures to illustrations.
Each LP contained a large format poster.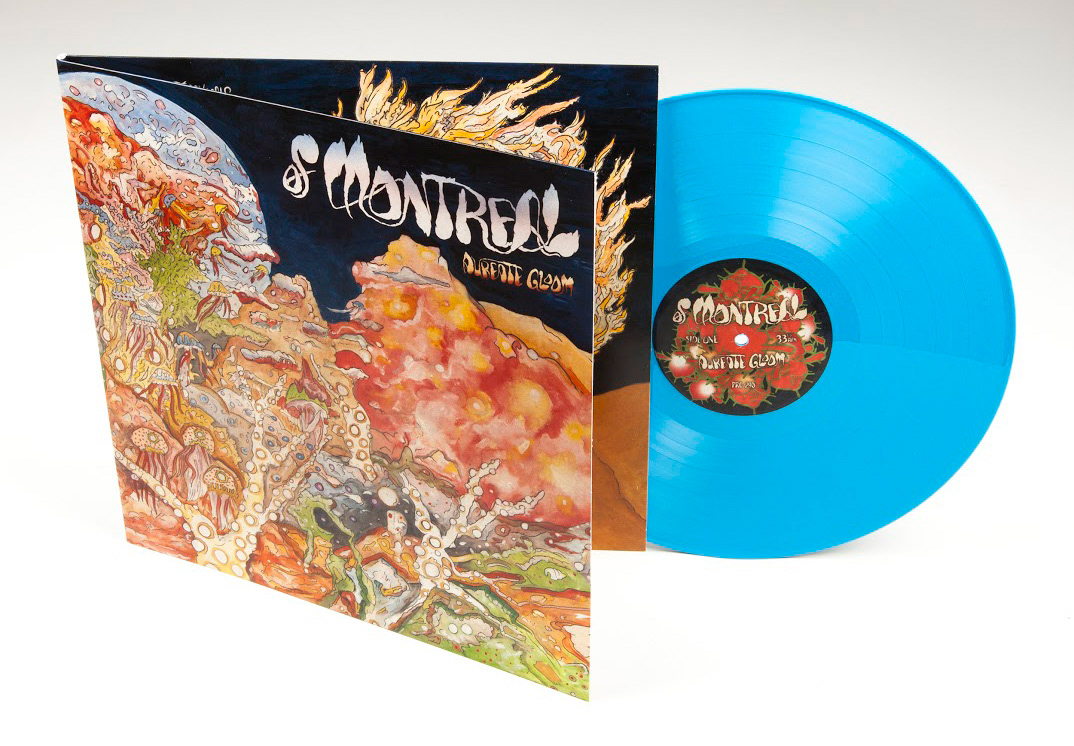 After pre-orders an opaque blue edition was made available for general orders and retail stores.
A fun fact about the wrapping up of this album:
We were already down to the wire on finishing this packaging on time. I mean we were working on it up until the night it was due. On that last night finishing this layout, before we turned it into Polyvinyl Records, we had a very long in-depth conversation about Pokémon. Naming our favorites and txting each other our cards, games, and books. We all had a good laugh because we were very relieved every thing was done. Kevin's last words that night while I was uploading the art were, "Tomorrow we will start on the next record." All I really did was laugh and say goodnight. I woke up the next morning with an email detailing the live double LP we'd be making for Records Store Day…
Details of my jacket lettering.
I used the interior art for the premier digital single off the album.
- - - -
Photos by Andy De Santis courtesy of Chris Hassen at Polyvinyl.