For the release of Kishi Bashi's album "Lighght" nine shirts were created for each song on the album. The album is actually eleven tracks long. So two impromptu songs and Ha Ha Ha pt 1 & 2 were collected as if they were each a track.
Each day leading up to the release of the album a new shirt would be revealed and opened for purchase online. People also had the option of blindly buying all nine shirts at a discounted rate, or if they wanted, just wait for all of them to be released buy the bundle then. Sales ended on May 20th, 2014.
Each shirt's back features handwritten lyrics supplied by Kishi Bashi.
IMPROMPTU: To start the set off I wanted to draw something similar to the album cover art for "Lighght" but not just recreate it. For the impromptu tracks 1 & 6 the image of Kishi Bashi on a horse was illustrated, but instead of being well dressed, I gave him the appearance of looking young and in raggedy clothing.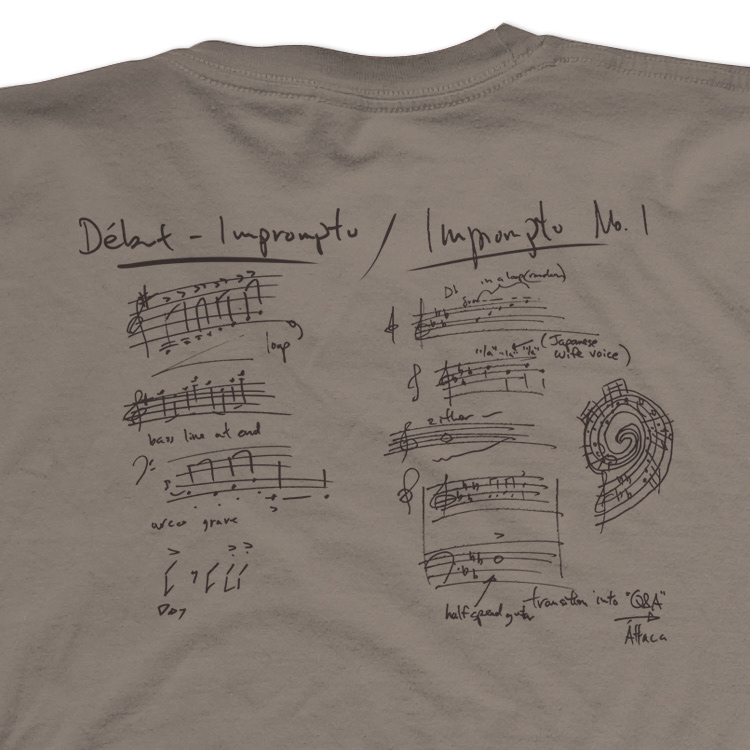 PHILOSOPHIZE IN IT! CHEMICALIZE WITH IT!: This was actually the first shirt of the set I illustrated. The idea of life slowly filling a glass heart came to mind from the lyrics.

THE BALLAD OF MR. STEAK: The idea for this shirt is what started the whole project. I knew this was going to be the top selling shirt design before I even started drawing it.

The idea is that meat products are dancing around their "Lighght" and if you look closely you're see that the circle is broken. One of the steaks is pointing down at the start and another steak is comforting the starting point with an embracing arm. 

To continue the theme of hearts, representing life and love, I have a ripped out gushing heart somewhere in the middle of this party.
CARRY ON PHENOMENON: When describing this song to me Kishi Bashi only said he wanted something with a mythical feeling to it. This is actually more a personal illustration to me than an interpretation of the song.

BITTERSWEET GENESIS FOR HIM AND HER: People really liked this shirt when it was revealed, but it is actually my least favorite. I tried to capture the literal meaning of the song with two characters tearing down and rebuilding their world. I put a heart to show the love at the center of it all.

My goal was to shake up the style and open the range of the shirts by introducing orthodox church inspired art work. This is part of why I don't like it was much as the others. It's really just not something I would casually illustrate.

Q&A: Originally this shirt design was a jar of fireflies, but at the same time I was making this set a contest was going of for fans to design Kishi Bashi's tour shirts i would be printing. Unfortunately for me a fan illustrated something very similar and it was decided upon to print.

I shifted gears and quickly made a new design. It's probably why it is so straight forward using the title of the song on the shirt. The image is of two people speaking each other's minds and coming together.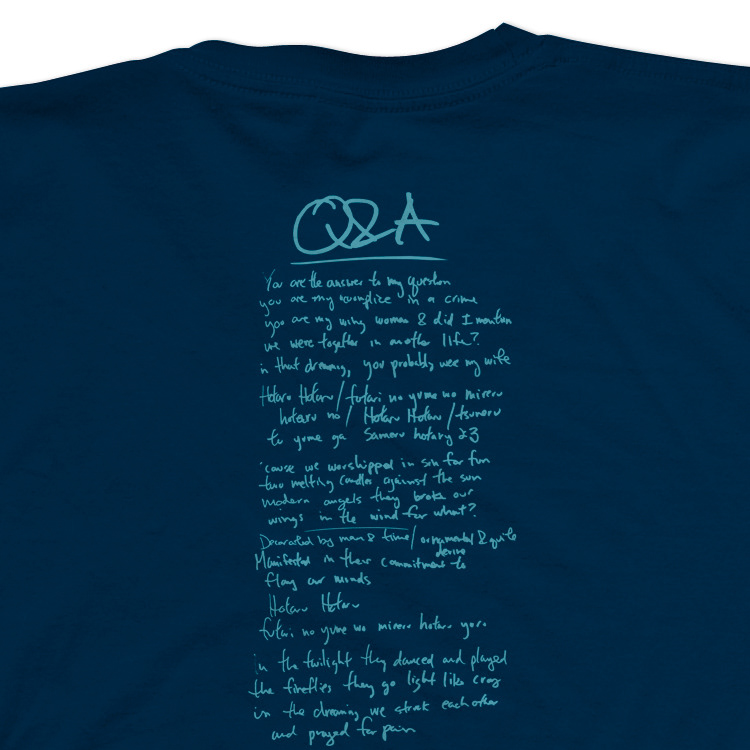 ONCE UPON A LUCID DREAM (IN AFRIKAANS): Kishi Bashi recently got a rabbit and I thought this was the perfect song to make an illustration that would creep him out. Turns out he thought it was just bad ass.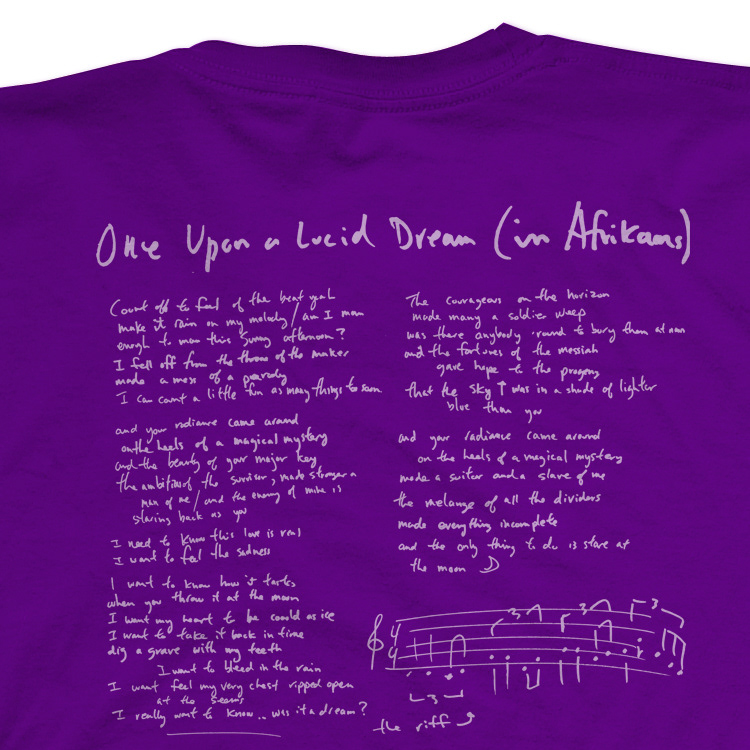 HAHAHA PT. 1 & 2: This shirt merges two tracks into one design. The manta rays are really just a metaphor for two people following each other and laughing together.

IN FANTASIA: This is the only shirt I had no plans for until I sat down to make it. The only thing I had to go on was the song was about being a vampire. I also wanted to somehow close the set off with another illustration of Kishi Bashi older. This would give a transition to the set that started off with him as a child. Guess I over shot because there's nothing older than a vampire, right? In fact vampire are kind of timeless.

This was a great design to close out on for the set. Everyone fell in love with it. Also it was 100% in my style and that made it extremely wonderful to make. I couldn't have been more happy with the final product of this design and the rest of the set.